In this period of state-sponsored austerity and suppression of resistance there is a great need for criminologists to speak out and act against state violence, state-corporate crime, and the growth of surveillance regimes and the prison-industrial complex. Criminologists also have a role to play in advancing alternatives to current regimes of regulation and punishment. In light of current social struggles against neo-liberal capitalism, and as an effort to contribute positively to those struggles, the Critical Criminology Working Group at Kwantlen Polytechnic University in Vancouver has initiated the journal Radical Criminology. We now welcome contributions.
No 4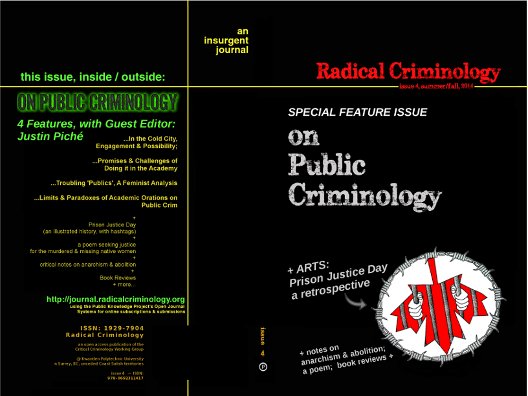 The image was created by (anonymous) prisoners at Joyceville, for their t-shirt design commemorating Prisoner's Justice Day in 2010... The logo of the upside-down maple leaf, said to be a "sign of distress", was later banned by the Minister of Public Safety at the time, Vic Toews.   Prisoners continue to fight for freedom of expression, and changes to the underlying conditions that cause such distress.

This work is licensed under a
Creative Commons Attribution-NonCommercial-NoDerivs 3.0 Unported License.
Attribution to include the author or artist's name, date of first publication,
and the name of our journal: Radical Criminology.
ISSN 1929-7904 (Print) | ISSN 1929-7912 (Online)