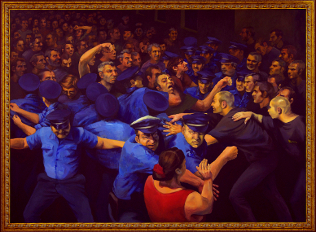 Notes on the Cover Painting -- Jugoremedija
Abstract
Zrenjanin, Jugoremedija Struggle 2004
Artist: Milica Ružičić | Technique: acrylic on canvas (made by inmates in prison @ Sombor), framed with baroque frame. | Dimensions 287x213cm | 2010.
Background text written by Ivan Zlatić
Pharmaceutical Factory Jugoremedija from Zrenjanin in Serbia was privatized in 2001 in such a way that the workers and retired workers got 58% and the state 42% of the shares. In 2002 the state sold its portion of shares to Jovica Stefanović – Nini, a businessman from Niš, who was still on the interpol's wanted list at that time as Smiljko Kostić's close associate in cigarette smuggling. In 2003 at the Jugoremedija Assembly, the small shareholders refused Nini's proposal to become the majority owner through recapitalization so he forged the decision on recapitalization, registered in court as the owner of 62% of the shares and started persecuting the workers that were active in the Trade Union and Small Shareholders' Association...
Keywords
Jugoremedija; labour; factory occupations; Milica Ružičić; arts; Zrenjanin; Serbia;
Refbacks

This work is licensed under a
Creative Commons Attribution-NonCommercial-NoDerivs 3.0 Unported License.
Attribution to include the author or artist's name, date of first publication,
and the name of our journal: Radical Criminology.
ISSN 1929-7904 (Print) | ISSN 1929-7912 (Online)
Save
Save
Save
Save
Save
Save
Save
Save
Save
Save
Save
Save
Save