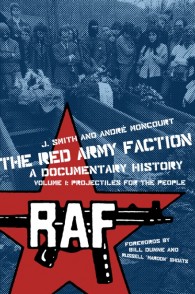 Reviewed: The Red Army Faction—A Documentary History. Vol. I: Projectiles for the People
Abstract
Smith, J. and André Moncourt (Eds),
(Montreal: PM Press, 2009).
Reviewed by—Guido G. Preparata,
Kwantlen Polytechnic University, March 2012
[Introduction]
This first installment of the documentary history of the Red Army Faction by J. Smith and A. Moncourt is a hefty tome of nearly 700 pages, which covers the vicissitudes of Germany's most famous terrorist outfit. The historical segment under review is the "classic" septennium: 1970-1977. This, indeed, was a time when the world at large seemed to have been invested by a wave of metropolitan counterinsurgency movements— from Latin America to Turkey and Japan by way of Europe, with Germany and Italy as its two most salient manifestations. The simultaneousness and similitude of such socio-political phenomena across geographical and cultural divides was, to put it mildly, uncanny. In this regard, the seventies were a unique period, and the detailed chronicles variously compiled of the strife that shook the constituted order in several nations at the time make up dazzling and forbiddingly complex material—material whose interpretative key social scientists and historians alike have been striving to discover ever since.
Keywords
Red Army Faction; Baader-Meinhof; terrorism; West Germany; 1970s; political violence; guerrilla warfare
References
Smith, J. and André Moncourt, eds. 2009. The Red Army Faction—A Documentary History. Vol. I: Projectiles for the People. Montreal: PM Press.
Refbacks

This work is licensed under a
Creative Commons Attribution-NonCommercial-NoDerivs 3.0 Unported License.
Attribution to include the author or artist's name, date of first publication,
and the name of our journal: Radical Criminology.
ISSN 1929-7904 (Print) | ISSN 1929-7912 (Online)
Save
Save
Save
Save
Save
Save
Save
Save
Save
Save
Save
Save
Save